Twin Day Hike Series: Mt. Pamitinan and Mt. Hapunang Banoi
September 5, 2015
Two weeks ago, I was invited to join a trilogy (summiting three mountains in one day) in Montalban, Rizal. Because the location is far from where I live, I needed to consider a lot of factors before I could join the climb – getting to the meet up place at 4:00AM, going to work the next day following the exhaustion of the climb and most importantly, convincing my parents to allow me to join the hike. And because I was invited early, I was able to sort these factors out.
Of course it is without a doubt that I wanted to join because the mountains in Montalban are included in my "Hike Checklist". I was so excited to finally be able to have the opportunity to go and experience the Sierra Madre mountain range which I only know from my Sibika and Hekasi class in elementary. I used this as motivation to get me through the daily work grind. And finally, last August 31, I was able to summit my 5th and 6th mountains:
Mountain Stats:
Mt. Pamitinan
Height: 426+ MASL
Location:Brgy. Sitio Wawa, Rodriguez, Rizal
Difficulty: 3/9
Trek to Summit: 2 hours 30 minutes
Mt. Hapunang Banoi
Height: 517+ MASL
Location:Brgy. Sitio Wawa, Rodriguez, Rizal
Difficulty: 4/9 (according to pinoymountaineer), 7/9 (according to the locals)
Trek to Summit: 3 hours
The original plan was to do a trilogy but several things happened that day resulting to us doing a twin day hike (summiting two mountains in one day) instead. But at the end of the day, it proved to be a very fulfilling and humbling experience.
As per usual, I will start off by sharing the details on how to go there and the safe budget for the trip. Hopefully, this will be of use to those who will hike the same mountains and/or any mountains in the same area.
To be able to do a trilogy or a quadrilogy (summiting four mountains in one day), hikers should start ascending the mountain at 5:00AM (earliest time they allow hikers to ascend). However, we arrived in Sitio Wawa at around 5:20AM and found out that our guide was still not in the area which added to the reasons why we were not able to do a trilogy. When our guide was still nowhere to be found around 6:00AM, we decided to just get a different one. Please note that because our group consisted of 11 hikers, we were required to get two guides – kuya Allan and kuya Ray
After registering our names, signing a waiver, paying a fee of Php2.00 per person at the jump off, registering at the barangay hall and giving any amount as donation and praying for a safe and fun hike, we were ready to begin (6:20AM). The trail starts by crossing Wawa River through a foot bridge. Mt. Pamitinan and Mt. Binacayan, which is said to have been separated by the mythical folk hero, Bernardo Carpio, can already be seen while crossing. It was unfortunate that we were not able to climb Mt. Binacayan but at least it appeared as a background in a lot of our photos from Mt. Pamitinan. Lol.
The first part of the trail is a bit forested with minimal rock scrambling portions. It is advisable to wear gloves to have a better grip on the rough and jagged rocks which can be uncomfortable to touch in bare skin. The ascent is bearable because there are flat surfaces every now and then and the trail is not that steep. After half an hour, we arrived at the Ulingan which is a store that sells food and drinks. Be sure to stock up on supplies since there will be no more stores after this. Just a few meters away from the Ulingan are the famous rock formations of a male genitalia and a foot which we all found both amazing and funny. After another 30 minutes, we arrived at the junction point that separates the trail between Mt. Pamitinan and Mt. Hapunang Banoi. This junction also serves as a resting area for the hikers before proceeding to the second part of the trail which is proven to be more challenging than the first.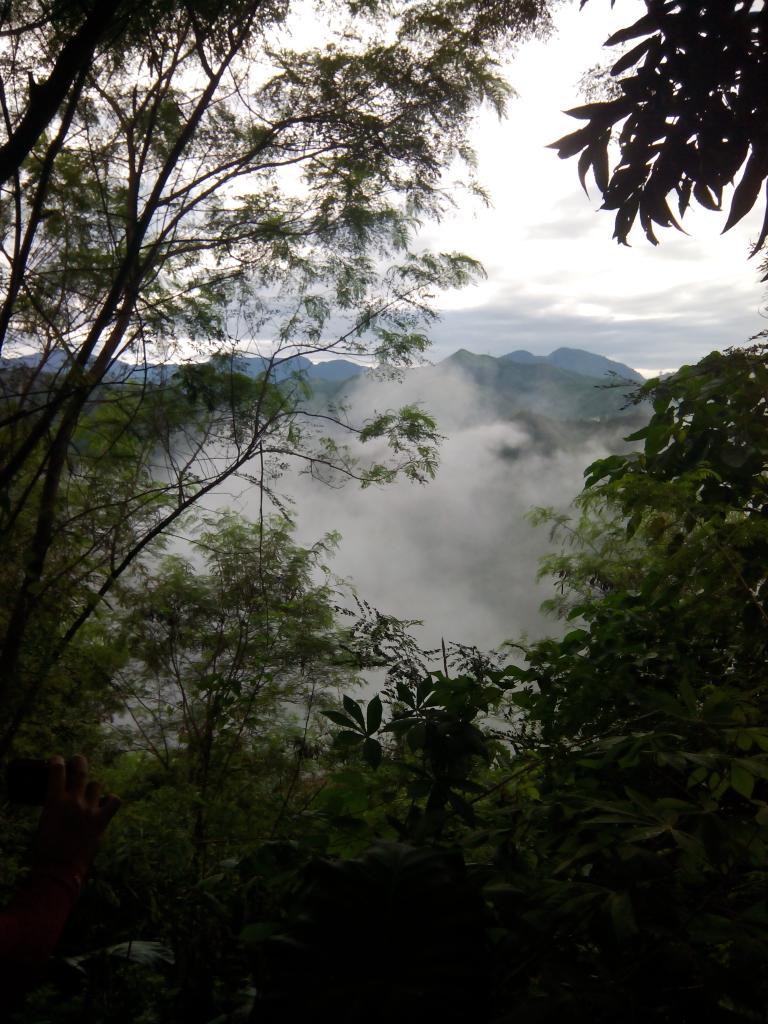 The view of morning clouds at the junction
We were supposed to go to Mt. Hapunang Banoi first but upon seeing the morning clouds in the junction and wanting to catch a better view of them in the summit, kuya Ray advised us to head to Mt. Pamitinan first because it is nearer from the junction and the trek is easier than Mt. Hapunang Banoi.
Mountain 1 of 2: Mt. Pamitinan
The second part of the trail involves a lot of rock scrambling which can be enjoyable to those who do rock climbing and challenging for those who haven't experienced anything related to it – yup, I found some parts of it challenging and some parts exciting because it was my first time to encounter a rocky trail.
After an hour, we finally reached the first summit of Mt. Pamitinan! Unfortunately, we were not able to catch the view of the morning clouds but it did not make the view from the top less breathtaking.
We took our time taking photos while waiting for the other members of the group and even though the flag in the first summit was gone because it was blown away by the wind during the strong rain the previous day, I still think we got some pretty nice shots. After we were all satisfied with the photos, we headed to the second summit which, fortunately, retained its flag. Before reaching the second summit; however, there will be a short roped segment.
The view from the second summit is still breathtaking with Mt. Binacayan in front of us. Unlike in the first summit, the second summit is not as spacious and can only accommodate one group at a time. And because there were still other groups waiting for their turn, we did not spend so much time taking photos.
After going down from the second summit, our guide led us to another part of Mt. Pamitinan which is famous for having incredible views of the Sierra Madre mountain range. Going there was a bit tricky but was definitely worth the trip.
It was already 11:20AM when we all gathered to descend from Mt. Pamitinan back to the Junction. This is also the reason why I was certain that we would only be able to do a twin day hike. And because it was almost lunch time, we had two options:
Continue with Mt. Hapunang Banoi and just have late lunch after descending
Ask one of our guides to buy lunch for us from the stores in the jump-off below and meet him back in the junction (since the guide is confident that he can make it back in about 30 minutes)
Kuya Allan advised that we go for the second option to replenish our energy and prepare us for the next mountain which will be more difficult than the first. And because some of us were already hungry, we went for the second option. After giving kuya Ray the money for lunch, he dashed off and we started to descend. We got back to the junction at around 12:00NN and just a minute or two after we got back, kuya Ray arrived with a big plastic that contained our lunch. We were so amazed at how he was able to go down and back up again in just 30 minutes!
We enjoyed our hotsilog and resumed our hike at around 1:00PM. However, some of us were already tired and just decided to wait at the jump-off. Out of the 11, only 7 of us continued to Mt. Hapunang Banoi. The other four members of the group were accompanied by kuya Ray and the seven of us were accompanied by kuya Allan.
Mountain 2 of 2: Mt. Hapunang Banoi
We were told that it would take about two more hours before we reach the summit from the junction since the trail going to Mt. Hapunang Banoi's summit is much more difficult than Mt. Pamitinan's. I was fine during the first few minutes of ascending but after a while, I noticed how I was slowly struggling to move from one rock to another. This is because the rocks in Mt. Hapunang Banoi are sharper and the spaces between them are further making me hold back every now and then. I found the rock scrambling part of Mt. Pamitinan to be a bit challenging but enjoyable while I found the rock scrambling part of Mt. Hapunang Banoi to be just really challenging. It was also quite difficult to sit and find a comfortable position since the rocks are really sharp. Somewhere during our ascent to the summit, the tights I was wearing caught holes while my friend's pants ripped.
The final part to the summit is the most difficult because it will require a lot of care and concentration since the spaces between the rocks are far with cliffs in between and one wrong step can, well, be dangerous. This part really got me anxious so I found it hard to move my legs. But our guide was very helpful in making sure that we were all okay. I remember having moments of wanting to just give up but then my mantra of "one step at a time" got my body to move – that the mind gives up far more quickly than your body is true and that a positive mindset is important in times like this.  Random comments that some of us made are the following:
Jen, ano ba tong ginagawa natin
Anong bayabasan ba tong inaakyat natin
Malayo pa ba to
Sunog na balat ko
Take your time lang, dahan-dahan
Pagod na ako
We had to wait for two other groups to finish their photo ops in the summit before we ascended. But because it was already around 3:00PM when we got there, the heat of the sun was piercing so we only stayed in the summit for about fifteen minutes.
Again, what worried me was the fact that we had to pass the same trail to descend. Just the thought of it made my legs weak so I told the group that I will be the sweeper this time. I do not usually volunteer as sweeper due to personal preferences but this one was an exception because I did not want to have added pressure upon the descent. True enough, I still found the rock scrambling really challenging. I am unsure which part of the descent caused my gloves to rip open because I just noticed it when I already felt the sharp rocks on my fingers.
Because there are seven summits in Mt. Hapunang Banoi, kuya Allan insisted that we take photos in each one but I really did not feel like climbing any more rocks that day so I had to politely decline some of his offers.
We were back in the junction at around 4:15PM and I was already very thirsty during this time because I already ran out of water a couple of minutes before reaching the junction. We were all quick to descend back to the Ulingan because everyone wanted to buy something cold to drink. When the store came to view, even if we were still a few meters away, I quickly shouted,
Ate, pabili po ako ng Gatorade!
After finishing a whole bottle of Gatorade in less than a minute, I still bought a glass of buko juice because I was that thirsty. We were back on our toes when we noticed how the clouds were getting darker by the minute. With little time to spare, we immediately got up and resumed our descent back to the jump-off point.
We were back at the jump-off at around 5:15PM where the other members of the group were waiting for us with hot coffee.
---
This video summarizes the twin hike experience in Mt. Pamitinan and Mt. Hapunang Banoi. However, it slipped my mind to take videos in the latter mountain because I was too focused on the trail.
---
Itinerary:
4:00AM → Meet-up (Jollibee, Commonwealth Market)
4:30AM → Jeep to Bayan ng Montalban
5:00AM → Tricycle to Sitio Wawa
5:20AM → DENR Office in Sitio Wawa (Register, Final Preparations)
6:20AM → Start ascent to Mt. Pamitinan
6:45AM → Ulingan
7:20AM → Junction
8:30AM → Summit 1 of Mt. Pamitinan (Photo ops, rest)
10:00AM → Start ascent to summit 2 of Mt. Pamitinan
10:20AM → Summit 2 of Mt. Pamitinan (Photo ops)
10:45AM → Side trip to another part of Mt. Pamitinan (Photo ops)
11:20AM → Descent back to junction
12:00PM → Arrive in Junction (lunch, rest)
1:00PM → Start ascent to Mt. Hapunang Banoi
3:00PM → Summit 7 of Mt. Hapunang Banoi (Photo ops)
3:15PM → Start descent
4:15PM → Back in junction
4:45PM → Back in Ulingan
5:15PM → Back in jump-off
---
Tips:
Bring gloves that will cover your palms and fingers
Do not wear shorts as the rocks are sharp and can cut through the skin
Be sure that one foot is stable and secure before trying to step and shift the weight to the other foot
Watch your step (actually, watch everything!)

I hit my head and bumped my leg at different rocks resulting to a few bruises.
Bring enough hydration (minimum of 2L or more depending on your water consumption)

I only brought 1.5L and it was not enough.
Pack light

The heavier the bag, the more difficult it is to go from one rock to another
But do not forget to bring the essentials (hydration, trail food, packed lunch, camera, alcohol, medicine)
Wear durable shoes or at least shoes that you are prepared to lose

Proud of my shoes for not giving up on me despite the countless times my foot got stuck in between the rocks
Bring a lot of courage and will power

Go legs go!
---
Really grateful that we had two accommodating guides that day. For those who plan to hike the mountains in Montalban, I highly recommend kuya Allan and kuya Ray. Contact kuya Allan of (PPL) Lubid Tour Guide Association at 0999-365-2005. And please like Pamitinan Protected Landscape on Facebook.
I would also like to thank my friend, Jen (you might remember her from my last twin hike post and my climb to Mt. Kalisungan), for extending the invitation to me and for accommodating me in her home the night before the climb. Thank you also to my other hike mates for the warm welcome.
---
Even though I have several bruises and intense tan lines (my white cover up fell in the mud so I had no choice but to climb without it) and slipped butt first on a muddy trail, overall, the twin hike experience was really fulfilling and I am extremely happy that I was able to come with. If given the opportunity, I would go back again to climb the other mountains of Sierra Madre in Montalban. But before that, I should at least try to reduce my fear of heights knowing what kind of trail to expect.
Onto the next mountain! Let's go? 🙂
Thank you for reading.
Related
You May Also Like
September 28, 2015
May 29, 2017
February 6, 2016